August 9, 2023
Exotec® will exhibit at the 3rd INNOVATION EXPO, Logis-Tech Tokyo 2023, to be held at the Tokyo International Exhibition Center (Tokyo Big Sight) from September 13th (Wed.) to 15th (Fri.), 2023. Under the theme of "Gathering Wisdom and Technology to Solve the Problems of 2024," this exhibition will bring together products and services that aim to promote management innovation by consolidating and fully utilizing all kinds of technologies, knowledge, and information related to logistics and distribution.
Overview
Dates: September 13th (Wed.) to 15th (Fri.), 2023, 10:00 to 17:00
Venue: Tokyo Big Sight, West Exhibition Hall 2
Booth: 2N-01
Product
The Skypod system is an automated picking solution that solves various logistics problems by combining the flexibility and high performance of state-of-the-art robotics. The system itself is a GTP (Goods-to-Person) type warehouse and order processing solution that aims to automate and improve efficiency.
The robots can transport goods weighing up to 30 kg at a speed of 4 m/s. It maneuvers by driving and climbing the storage racks to retrieve bins, and automatically transports them to picking stations. All SKUs can be retrieved in less than 2 minutes, and racks can be installed up to 12 meters high. The modular design allows for scalability, flexibility, and high-density, and the stations are ergonomically designed.
At this year's exhibition, we will be showcasing the Skypod robots, storage
racks, and a picking station.
For an idea of what you can expect at our booth, take a look at our recap video of Logis-Tech Tokyo 2022:
Seminar
Date: Wednesday, September 13, 13:00 – 13:30
Venue: Venue B (in the West Hall 4)
Seminar number: 1-D
Speaker: Ryu Tatewaki, Managing Director, Exotec Nihon Co., Ltd.

*The seminar will be performed in Japanese.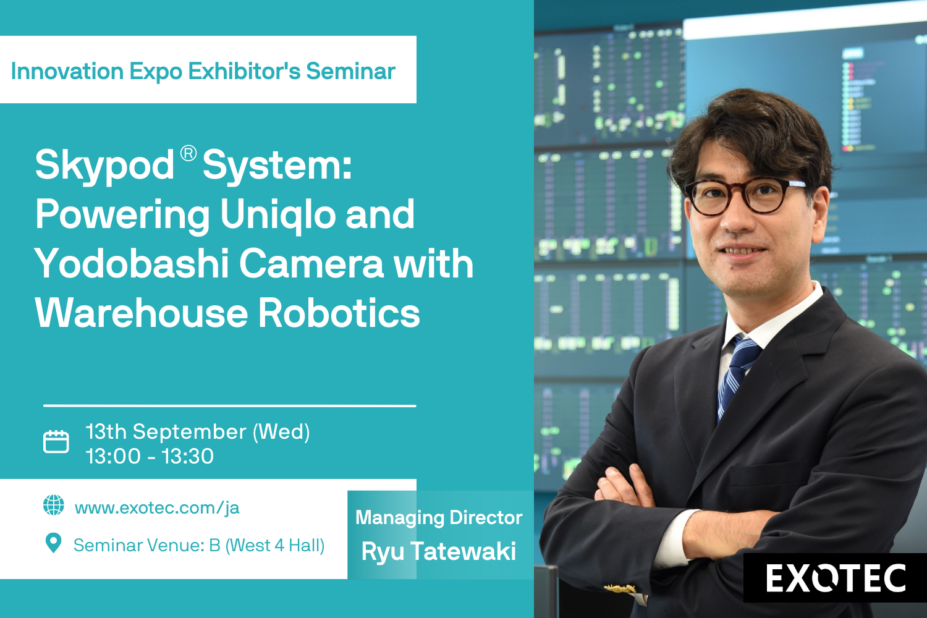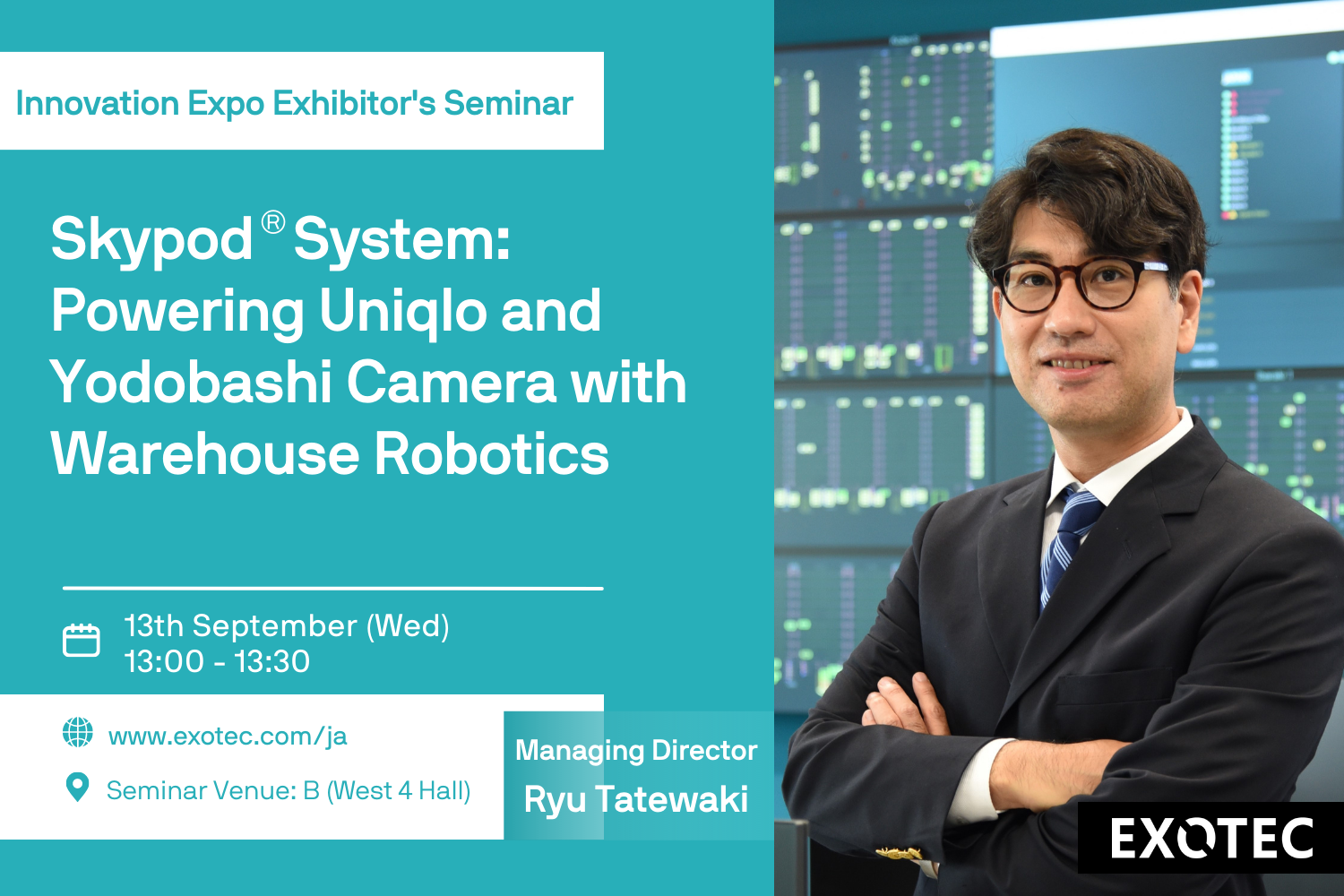 Discover how major companies around the world, including Uniqlo and
Yodobashi Camera, have resolved their logistic pain points, improved their business efficiency and working environment by adopting the Skypod system.
Interested in testing our system?
At our booth, you can experience a series of order processing steps in which a
Skypod robot will take items from the storage racks and deliver them to a picking station where a worker will be present. Please feel free to ask our staff at
the booth for more information and to try for yourself!
Reservations for the "Picking Experience" can be made in advance. Please send
us an e-mail to the address below, stating that you would like to experience the
picking process. Our staff will reach out.