April 1, 2022
Seeing is believing.
The phrase dates back to the 17th century and still proved true for the crowds of supply chain industry professionals who saw a small, yet intriguing demo version of Exotec's signature Skypod system during the Modex Tradeshow in Atlanta, GA on March 28-31. If you missed it, don't worry. That Skypod system will soon be on display in Exotec's Atlanta office. Here are a few Modex highlights:
1. A Display of Elegant Robotics
Intrigued onlookers circled the Exotec booth as they watched the Skypods quickly move in three-dimensions along the order picking stations, floor and inventory racks. This unique flexibility allows the Skypod system to increase throughput up to 5 times with 2-minute response times for all SKUs. The Skypods can also reach a height of 39 feet, enabling high-density storage. Exotec systems are fully modular allowing customers to deploy in a matter of months and easily expand their systems without interrupting production by simply adding robots, stations or racks.
2. Leading the Warehouse Automation Discussion
Exotec welcomed attendees to learn about the unique benefits of the Skypod system during two Modex seminars and fireside chats. Watch the fireside chat video above to learn how the Skypod system was installed and is maintained at Ariat's warehouse in Fort Worth, Texas.
3. Innovating Solution
With over 800 exhibitors, Exotec is proud to have been selected as a finalist for Modex's Innvoation Award for Best New Product.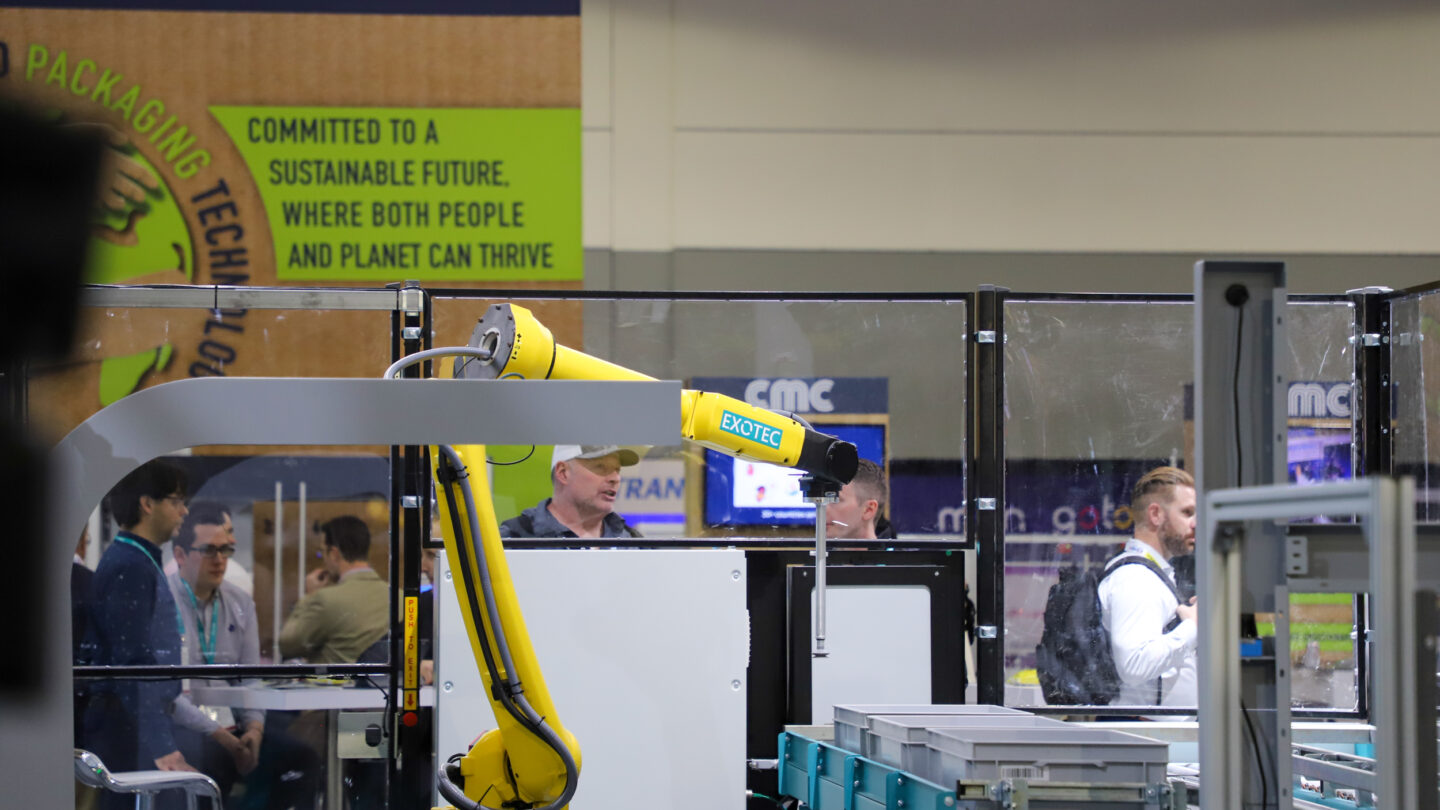 4. Skypicker's North American Debut
The Skypicker took action for the first time in North America during Modex. The fully automated order preparation solution features an articulated arm that can pick up to 600 items per hour. It allows for simultaneous preparation of four orders. Modex attendees watched as the Skypicker precisely picked a wide variety of consumer goods including M&M's, packets of gum and highly coveted copies of the Skypod system DVD.